The previous Foundations post covered the origin of symbol and ritual, using the example of water, up to the point of Jesus's life.
In this post, more on symbols and rituals! Symbols that were remixed by Jesus; the way the Christian community ritualized that remixing; the way we understand those rituals today. In short: an overview on how Christian ritual began and how we got to where we are today. All of this is leading up to how Christians' understanding of the use of elements and their symbolic meaning shapes our engagement with culture.
Shifting Symbols
Jesus was born in a particular place at a particular time, which means that he was born into a context. This might seem obvious, but I think we forget it when we talk about Jesus-in-the-present. We forget that the way Jesus is now is fundamentally different from the way Jesus was then, when he had a very specific body and face and voice in a culture that assigned meaning to all these things.
He was born into the Jewish tradition in the time of the Roman empire. Which means that there are two cultures at play here, each with their own nuanced understanding of symbolic objects. The culture of the Jewish people had well-established rituals and symbols using elements that were richly textured with history, story, and poetry. And the same was true of the Roman empire, with their own narratives and meanings.
Jesus seems to be quite familiar with both these cultures by the time he enters into adult ministry. He often remixes elements in order to give new symbolic meaning. Through remixing elements, Jesus shifts his audience's understanding of the symbols, thus shifting their understanding of the world.
Shifting Symbolism with the Water Element
Water was a central part of the Jewish tradition. In the first lines of scripture, the Spirit of God dwells over water. In Exodus, water turns to blood to show God's expansive power; the water of the Red Sea parts to liberate the people of Israel; water flows from a rock to sustain them. When Jesus is born, water is deeply meaningful and well-textured. And the multiplicity of these meanings — new life, liberation, sustenance — is ritualized through submersion into water called baptism.
Jesus is far from the first to use water as a symbolic element.
So when Jesus interacts with water, he's often playing with the meaning of the symbol that already exists in order to re-connect those around him with the original potency of the element.
To take the first miracle in the gospel according to John: Jesus turns water into wine. Water, in the jars for ceremonial washing, is largely associated with purity. Not just physical cleanliness, but spiritual purity. Wine, like water, also has a rich symbolic history of joy, hospitality, and a foreshadowing of the banquet to which God invites us. So when Jesus puts wine into the jars for ceremonial washing, it's a violation of religious custom that signals a deep connection between the place of the holy (ceremonial jars) and the substance of joyful hospitality (wine).
Jesus places the symbols in relationship to each other in a way that confronts the audience and points them to a deeper meaning that they may have been missing.
And that wedding where Jesus turned water into wine was in Cana, which is near the altar of the Roman god Dionysos. On his feast day, Dionysos would cause the streams to run with wine instead of water — Dionysus turned water into wine. So when Jesus does the same thing, in jars instead of flowing water, on a random weekend instead of a certain feast day, the Romans would have understood that Jesus is somehow more divine than their god.
In a single act with the same elements, Jesus confronts both Jewish and Roman symbols — which is to say, he messes with both their understandings of the world, in a way that draws them toward a new creation.
Ritualizing the Remix
As Jesus's followers develop into a community, they do what all groups of humans do — they create rituals for their time together. For Christians, this means that they created rituals based on Jesus's use of symbols. To early Christians (many of whom understood themselves as Jewish), much of the subversive use of these elements was intact; they understood the history that Jesus had been undermining, and are using the elements to now remind themselves that, in Jesus, creation is somehow made new.
Of course, for Christians today, much of that textural complexity of symbol has been lost. We didn't grow up in Jewish homes under Roman rule. And while all that context is interesting for context and fuller understandings of the gospel (and I'll even go so far as to say: it's absolutely essential for anyone entrusted with scriptural interpretation through preaching), it isn't essential for most people.
We don't need to understand the Roman and Jewish contexts and symbolic understanding of the elements used in ritual in order to be impacted by these rituals. The element is still intuitively associated with its original functioning in the world, and we can rely on this for impact.
Let's clarify with our water example.
A Water Ritual: Baptism
In the last Foundations post, we briefly touched on the ritualization of the water symbol into baptism.
By the time of Jesus's birth, baptism was a solidified ritual in the Jewish community. Baptism was a required part of conversion, a repeated part of Jewish life, and a part of the ordination process. Baptism represented, at once, purification, restoration, and enculturation into the community.
When Jesus asks John to baptize him, he is both participating in this ritual and playing with it — the play has resulted in much debate over the centuries about what it means for the Holy One to participate in a ritual that signifies repentance and purification. But that's a tangent I'll resist for now.
Early Christians also practiced baptism. In New Testament texts, baptism is at once understood as a ritual of cleansing, adoption, identification with Christ, and death of the old self/rebirth of a new self.
Over time, Christian communities have moved between practices of infant and adult baptism, methods of immersion and sprinkling, baptism as a one-time deal or a repeated experience. There are communities today that represent each possible set of answers, and they are all in the wide stream of orthodoxy.
All of this is to say: Jesus stepped into a river once, remixing the way we understood baptism, and millions of people have since followed.
Perhaps it's because of his example alone that we wade into the waters, but I doubt it.
Back to Elements
I think we follow Jesus into the baptismal waters because there's something compelling going on in the symbol that water itself carries.
I was baptized in my early 20s. I was really excited and invited everyone, and many of my friends who are in the category of religious "nones" came. These are friends who weren't familiar with the symbolic heritage of water in the Judeo-Christian tradition. They weren't thinking about how the Spirit moved over the waters in creation. They weren't remembering how God led Israel through water to freedom. They had no context of Jewish symbolic meaning for what it meant for Jesus to have been baptized (truthfully, at the time, neither did I).
And yet it was one of the most transformative experiences of my life. And when I came out of the waters, some of my "none" friends had tears in their eyes as they hugged me, the baptismal water transferring from my body to their sweaters.
What is it that makes this ritual so impactful, even for people who don't have knowledge of the symbolic heritage?
I would argue that it goes back to the element itself. Water is inherently renewing. Our bodies are mostly made up of water. Our very lives depend on our ingesting water at regular intervals. On some level, our bodies know this, even if our minds don't think of it very often. Water is a sort of permanent symbol for sustaining and renewing life.
This symbolic texture of water connects to us not at a "Christian" level, not merely in the intellect or belief system. This connects on a human level. The Christian community has simply developed that meaning in a certain way and uses it in a certain context. We did not give water its meaning. Meaning does not belong to us. Meaning is the work of the Spirit. Meaning belongs to God.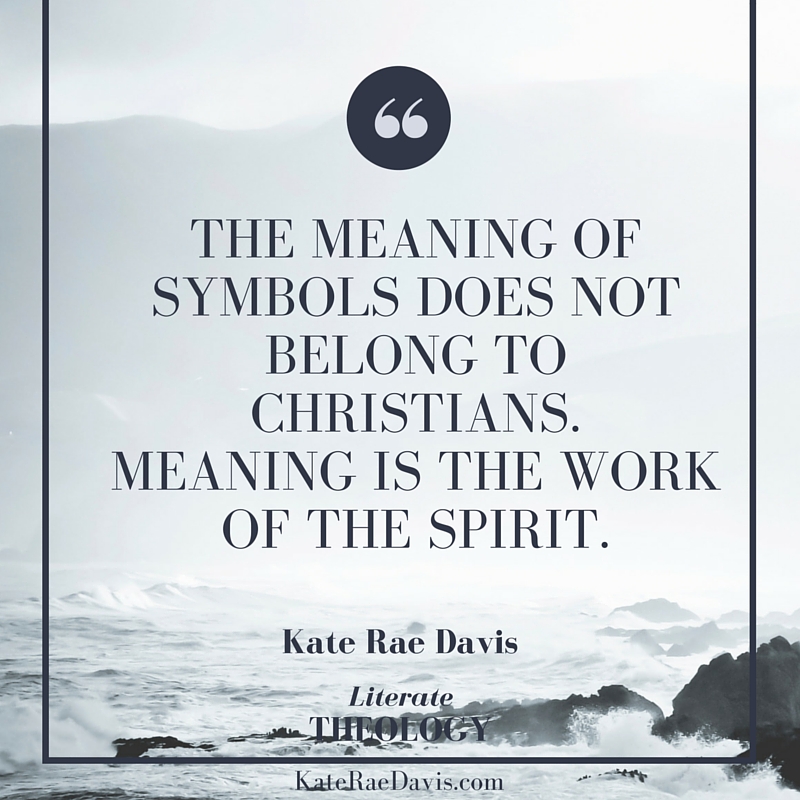 Next Time
In the next Foundations post, we'll FINALLY get to the meat of what this all means for a Christian understanding of symbolism in culture today, how the Spirit continues to work through symbols, and why Christ keeps showing up in "secular" culture.
---
For discussion: Do you remember your baptism, or have you witnessed another's? What struck you as meaningful in that moment? If you have other, non-baptismal memories with water that impacted you, share those!